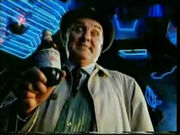 Red Rock Cider
was an alcoholic beverage produced by Taunton Cider plc, a company that was also responsible for ciders such as Dry Blackthorn and Diamond White Cider. Red Rock Cider was sold in the UK, mostly during the 1980s and the 1990s.
Leslie Nielsen
did the advertisements as
Detective Frank Drebin
, Drebin was never namechecked but Nielsen's part was very similiar.
Captain Ed Hocken
didn't appear in any of the commercials there was a character named
Al
who was an employee of Frank, portrayed by Philip O'Brien. The cider is best remembered for it's commercials and it's catchphrase "It's not red, and there's no rocks in it". A lot of
Police Squad!
Gags
, such as the
Opening title
and the
screwdriver
joke, were also used in the commercials, most commercials were introduced under the name
Fraud Squad!
, however in one episodes Frank's batch says "Fried Squid". The commercials were directed by
John Lloyd
.
Commercials
Edit
Image
Opening title
Guest stars
Alternate Squad! name
Operation Undercover
(The Secret Assignment)
unknown
Fraud Squad!
Albert Einsteins Foam Guide
(?)
Hank Marvin (as himself)
Fried Squid!
There Go My Thrausers
(Terror in the Night)
unknown
Fraud Squad
Ad blocker interference detected!
Wikia is a free-to-use site that makes money from advertising. We have a modified experience for viewers using ad blockers

Wikia is not accessible if you've made further modifications. Remove the custom ad blocker rule(s) and the page will load as expected.