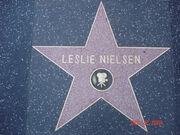 The Hollywood Walk of Fame
is a sidewalk along Hollywood Boulevard and Vine Street in Hollywood, Los Angeles, California that serves as an entertainment hall of fame. It currently has around 2,000 five-pointed stars, wich carry the names of actors, fictional characters and television programs. The first star, wich was awarded on February 9, 1960, went to Joanne Woodward. Every star has a small emblem wich show in wich category the star is awarded, under the emblem stands the name of the person it was awarded to. There are five different emblems, they are
a Motion picture camera, a Television set, a Phonograph record, a Radio microphone and Twin comedy/tragedy masks
. Since the walk of fame's start (in 1960) a total of four stars have been stolen, of wich three are returned and one has been replaced. Those of James Stewart, Kirk Douglas and Gene Autry have been found back, Gregory Peck's star has been replaced. A lot of
Naked Gun
and
Police Squad!
guest
and
main stars
have a star on the walk of fame, these include
Leslie Nielsen
,
George Kennedy
,
Robert Goulet
,
Lorne Greene
,
William Shatner
,
Ricardo Montalban
and
Dick Clark
.
Ad blocker interference detected!
Wikia is a free-to-use site that makes money from advertising. We have a modified experience for viewers using ad blockers

Wikia is not accessible if you've made further modifications. Remove the custom ad blocker rule(s) and the page will load as expected.