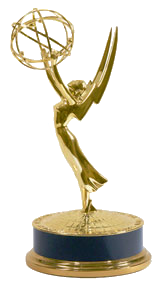 The Emmy Award is an American award that is presented yearly since 1949, by the Academy of Television Arts & Sciences to honour excellence in television. There are seven different Emmy awards best known in the us are the Primetime and the Daytime Emmys, with both having categories classified as Creative Arts Emmys, other Emmys are the International Emmys, the Sports Emmys, the student Emmys, the Technology Emmys and the regional Emmys. The first Emmy Awards were given away on January 25, 1949 at the Hollywood Athletic Club. Police Squad got a total of 2 nominations, 1 for Leslie Nielsen (Outstanding Lead Actor in a Comedy Series) and 1 for Jerry Zucker, Jim Abrahams and David Zucker (Outstanding Writing in a Comedy Series). A lot of Police Squad! and Naked Gun actors won Emmys or got Emmy award nominations, for example: William Shatner, William Conrad, Ricardo Montalban, John Houseman, Georg Stanford Brown and James Earl Jones.
Ad blocker interference detected!
Wikia is a free-to-use site that makes money from advertising. We have a modified experience for viewers using ad blockers

Wikia is not accessible if you've made further modifications. Remove the custom ad blocker rule(s) and the page will load as expected.